The Exor Board of Directors' meeting, chaired by John Elkann, approved today the 2021 Half-year Financial Report.
NET ASSET VALUE (NAV)
At 30 June 2021 Exor's NAV was $32,158 million, an increase of $2,657 million (+9%) compared to $29,501 million at 31 December 2020. At 30 June 2021 the NAV per share was $136.54, an increase of $11.28 per share (+9%) compared to $125.26 at 31 December 2020.
At 30 June 2021, listed equity investments and other securities are valued at official market prices; unlisted equity investments are valued at fair value, determined annually by independent experts at the end of the year.
A detailed breakdown of the NAV is attached to the press release.
The change in the NAV per share compared to the MSCI World Index in U.S. Dollar in the first half of 2021 is presented below.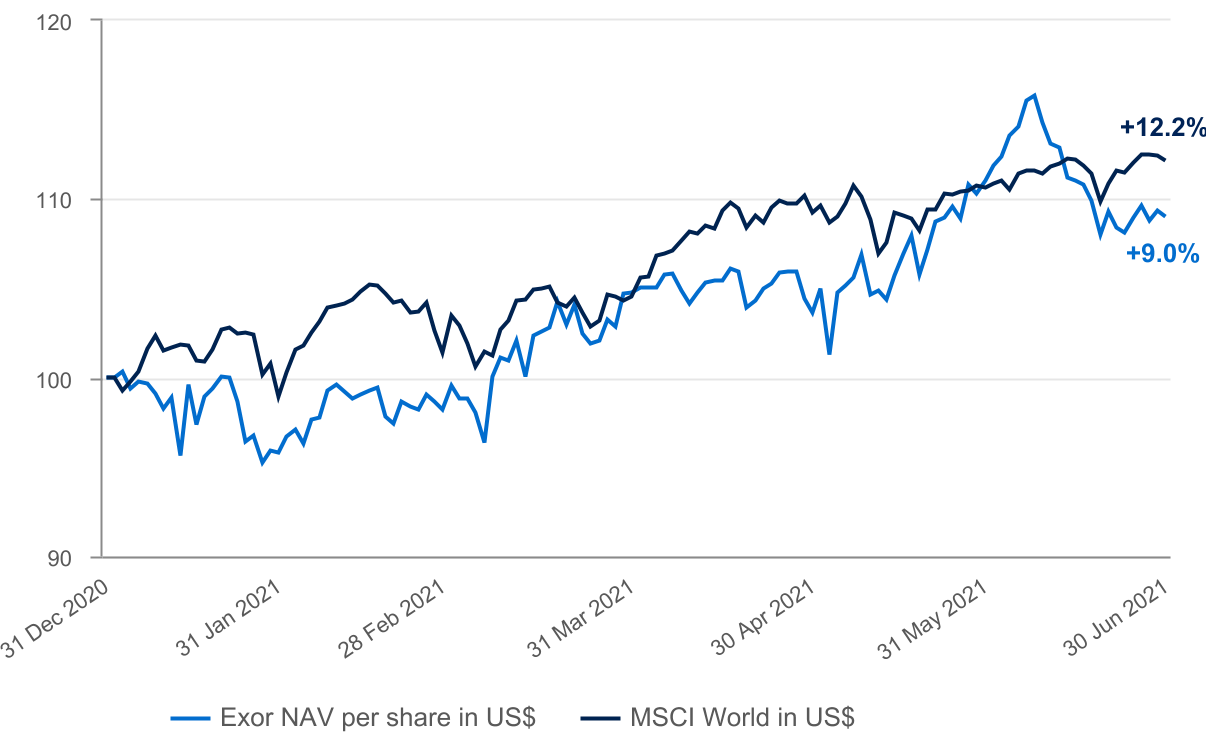 SUMMARY OF CONSOLIDATED FINANCIAL RESULTS
RESULT: Exor closed the first half of 2021 with a consolidated profit of €838 million, resulting in an improvement of €2,156 million compared to the first half of 2020 (which ended with a consolidated loss of €1,318 million mainly attributable to the negative impact of the COVID-19 pandemic on the operating companies).
The improvement is mainly attributable to the strong performances of the operating companies (+€2,636 million), partially offset by a non-recurring loss (€504 million) arising from the deconsolidation of FCA, following the merger with PSA. In particular, in accordance with accounting principles, Exor recognized to the income statement its share of negative exchange differences on translation previously classified in the FCA's net equity.
EQUITY: At 30 June 2021 the consolidated equity attributable to owners of the parent amounts to €15,022 million with a net increase of €1,932 million, compared to €13,090 million at 31 December 2020.
NET FINANCIAL POSITION: The consolidated net financial position of the Holdings System at 30 June 2021 is a negative €3,129 million and reflects a positive change of €122 million compared to the negative financial position of €3,251 million at 31 December 2020, mainly due to dividends received from investments (€1,101 million), partially offset by investments (€862 million) and dividend distributed (€100 million).
SIGNIFICANT EVENTS IN THE FIRST HALF OF 2021
Significant events below refer to EXOR N.V. and the Holdings System.
Creation of Stellantis
On 4 January 2021, the PSA and FCA extraordinary general shareholders meetings approved the merger of PSA with and into FCA, with FCA as the surviving legal entity in the merger.
On 16 January 2021, by virtue of the merger, FCA issued 1.742 FCA common shares for each outstanding PSA ordinary share and each PSA ordinary share ceased to exist. Each issued and outstanding common share of FCA remained unchanged as one common share in FCA. The surviving entity changed its name to Stellantis on 17 January 2021, which was the accounting acquisition date for the business combination. Following the merger, Exor holds 449,410,092 common shares of Stellantis, corresponding to 14.4% of the outstanding capital.
As part of the merger, Stellantis paid to holders of FCA common shares the extraordinary dividend of approximately €2.9 billion (Exor's share €827 million) and distributed to its shareholders its 39.34% stake in Faurecia and the proceeds generated by the sales of Faurecia ordinary shares effected in 2020. On 22 March 2021 Exor received €43 million and 7,653,004 Faurecia ordinary shares.
In accordance with the above transaction Exor lost control over FCA and therefore derecognized the former FCA Group net assets at 16 January 2021 and reclassified to the income statement the amounts previously recognized in other comprehensive income related to the subsidiary. At the date of completion of the merger Exor assessed to have significant influence on Stellantis and started applying the equity method according to IAS 28. On initial recognition the investment was accounted for at cost, equal to €6,660 million, which will be attributed to the Exor's share of Stellantis's net fair value as part of the purchase price allocation, to be completed within one year from the initial recognition.
Issue of non-convertible bond due 2031
On 19 January 2021 Exor issued bonds for a nominal amount of €500 million, maturing on 19 January 2031 with a fixed annual coupon of 0.875%. The purpose of the issue was to raise new funds for Exor's general corporate purposes, including the refinancing of existing debt. The bonds are listed on the Luxembourg Stock Exchange for trading on the Euro MTF Market, with a BBB+ credit rating assigned by Standard & Poor's.
Tender offers on 2022 and 2024 Exor Bonds
On 12 January 2021 Exor launched an invitation to eligible noteholders of the Exor outstanding €750,000,000 2.125% Notes due 2022 and the Exor outstanding €650,000,000 2.50% Notes due 2024, listed on the Luxembourg Stock Exchange, to tender their notes for purchase by Exor for cash. On 20 January 2021 Exor announced that it accepted all validly tendered notes for an aggregate nominal amount of €297,713,000. Therefore, the nominal amounts outstanding after the repurchase settlement date are €601,891,000 of Notes due 2022 and €500,396,000 of Notes due 2024.
Investment in Christian Louboutin
On 8 March 2021 Exor and Christian Louboutin signed an agreement whereby Exor would invest €541 million to become a 24% shareholder in Christian Louboutin alongside the founders and nominate 2 of the 7 members of its board of directors. The transaction closed on 13 April 2021.
Increase in the investment in Via Transportation
In March 2021 Exor invested a total amount of $150 million (€126 million) to acquire a further 8% stake on a fully - diluted basis in Via Transportation. At 30 June 2021 Exor held 16.9% of the share capital of Via Transportation for a total amount of €294 million.
Increase in the investment in Welltec
During the first half of 2021 Exor acquired a further 25.5% of Welltec for a total consideration of $48 million (€39 million). At 30 June 2021 Exor held 47.6% of the share capital of Welltec.
Increase in the investment in Exor Seeds
During the first half of 2021 Exor increased its investment in Exor Seeds by $147 million (€122 million).
Creation of the new partnership between Exor and The Word-Wide Investment Company Limited (WWICL) in NUO S.p.A.
On 16 June 2021 Exor and The World-Wide Investment Company Limited ("WWICL"), Hong Kong's oldest family office, created a partnership between two multi-generational entrepreneurial families to invest in and support the global development of medium-sized Italian companies specialising in consumer goods excellence.
The new company, called NUO S.p.A., contributed equally by its founders, will be endowed with initial permanent capital of €300 million.
PERFORMANCE OF PRINCIPAL COMPANIES
Exor 2021 Half-year Financial Report, which will be available at the head office of the company and on the website www.exor.com in the time frame established by law, includes comments on the performance of all the principal companies.
SUBSEQUENT EVENTS
Juventus Football Club capital increase
On 25 August 2021 the Juventus's board of directors approved the proposal to increase the share capital against cash contribution up to €400 million, subject to the final approval by the extraordinary shareholders' meeting on 29 October 2021. In this context Juventus signed a pre-underwriting agreement with a pool of leading banks pursuant to which they are committed, subject to conditions in line with market practice for similar transactions, to subscribe any newly issued share that remains unsubscribed at the end of the auction period of the offering. On 27 August 2021 Exor, that has undertaken to subscribe for its quota of the capital increase (about 63.8%), paid in €75 million as an advance on the future capital increase to strengthen Juventus's capital and financial structure pending completion of the transaction. It is expected that the transaction will be completed by the end of 2021, subject to the approval of the competent authorities.
Change in the Audit Committee
Due to time constraints, Mr. Joseph Bae will step down from the Audit Committee and Ms. Ginevra Elkann will rejoin as Audit Committee member after today's Board meeting.
Dividend from PartnerRe
In July 2021, Exor Nederland received a common share dividend from PartnerRe of $107 million (€91 million).
Dividend from The Economist Group
In July 2021, EXOR N.V. received a dividend from The Economist Group of £9 million (€10 million).
2021 OUTLOOK
EXOR N.V. does not prepare budgets or business plans, nor does it publish forecast data or data on the basis of which it is possible to calculate forecast data.
Certain Exor operating subsidiaries and associates (Ferrari, CNH Industrial and Stellantis) publish forecast data on their performance. Other operating subsidiaries (PartnerRe and Juventus Football Club) publish information on the foreseeable outlook. Additional information is provided under "Review of performance of the main companies" in the Board Report.
The forecast data and information of the above mentioned operating companies and associates are drawn up autonomously and communicated by the respective companies and are not homogeneous. Quantitative forecast disclosures prepared by these operating companies and the type of information provided, as well as the underlying assumptions and calculation methods vary according to the accounting principles applicable to each subsidiary and the conventional application practices in the respective sector of reference.
EXOR N.V. in fact, is a holding company without a specific business of reference, head of a diversified and non integrated group that operates in different segments and does not exercise direction and coordination activities over its subsidiaries, which operate in a completely independent manner.
EXOR N.V. deems that the forecasted data and information of the subsidiaries and associates are not significant or suitable for the purposes of providing indications about the prospective economic trend of EXOR N.V.'s operations, nor represent a forecast or estimate of the company's results. Therefore, in assessing EXOR N.V.'s future prospects it is not possible to rely on the data and prospective information published by the aforesaid operating subsidiaries and associates.