NET ASSET VALUE
In 2019, Exor's Net Asset Value per share in Dollars, or NAV per Share, increased by 34.5%, outperforming by 9.3 p.p. our benchmark, the MSCI World Index, denominated in Dollars.
Note: data in 2009 starts from March 1ˢᵗ, the date before EXOR's listing on Borsa Italiana
 EXOR NAV PER SHARE PERFORMANCE vs. THE MSCI WORLD INDEX (in US$) 


Annual percentage change

Year

1 - EXOR NAV per share in US($)
2 - MSCI World Index in US ($)
Relative results (1-2)

2009

113.2

55.6

57.6

2010

33.7

9.6

24.1

2011

-26.2

-7.6

-18.6

2012

21.6

13.2

8.4

2013

21.0

24.1

-3.1

2014

0.8

2.9

-2.1

2015

8.4

-2.7

11.1

2016
9.6
5.3
4.3
2017
56.9
20.1
36.8
2018
(13.6)
(10.4)
(3.2)
2019
34.5
25.2
9.3

Compounded annual rate

19.3

11.1

8.2
Our performance needs to be looked at in the context of a year in which every asset class meaningfully increased in value. The strongest contributor was Ferrari (up +71% in Euro and +68% in USD) on the back of strong results and a substantial increase in the valuation multiples of the luxury goods sector.
US$ million

12/31/2019
12/31/2018
Change vs 12/31/2018
 
 
 
Amount
%
Investments
28,923
23,276
5,647
+24.3%
Others
1,074
497
577
+116,1%
Gross Assset Value
29,997
23,773
6,224
+26.2%
Gross Debt
(3,842)
(4,033)
191
-4.7%
Net Asset Value (NAV)
26,155
19,740
6,415
+32.5%
NAV per Share
110.8
82.3
28
+34.5%
Investments (96.4% of GAV)
The most significant event within our portfolio in 2019 was the announcement of the FCAPSA merger. This merger, the largest in our history, will create the 3rd largest global car company by revenues and 4th largest by volume.
Both companies have glorious histories. Like FIAT, Peugeot traces its beginnings back to the nineteenth century. The two companies have had many interactions, particularly in the 1970s when Fiat invested in Citroën, Citroën sold Maserati and Peugeot acquired Citroën and Chrysler's European activities. The iconic Citroën SM (Super Maserati) is a reminder of that past collaboration, as is the successful joint venture between FIAT and PSA in commercial vehicles that was signed in 1978 and which has since produced 6.3 million vehicles.
The NewCo formed through the FCA-PSA merger will have strong market shares in EMEA, in NAFTA and in Latin America and will have significant opportunity to grow in APAC where it will have ~1% market share. It will also own a broad-based portfolio of brands covering all market segments.
The rationale for consolidation in the car industry is a topic that I have written about in the past and its benefits have been demonstrated both by PSA coming together with Opel and FCA and FIAT coming together with Chrysler. We are very confident in achieving annual synergies of ~€3.7 billion at steady state (without plant closures) through the creation of NewCo, particularly given that it will be led by Carlos Tavares, who has achieved strong results as the CEO of PSA and understands the importance of culture.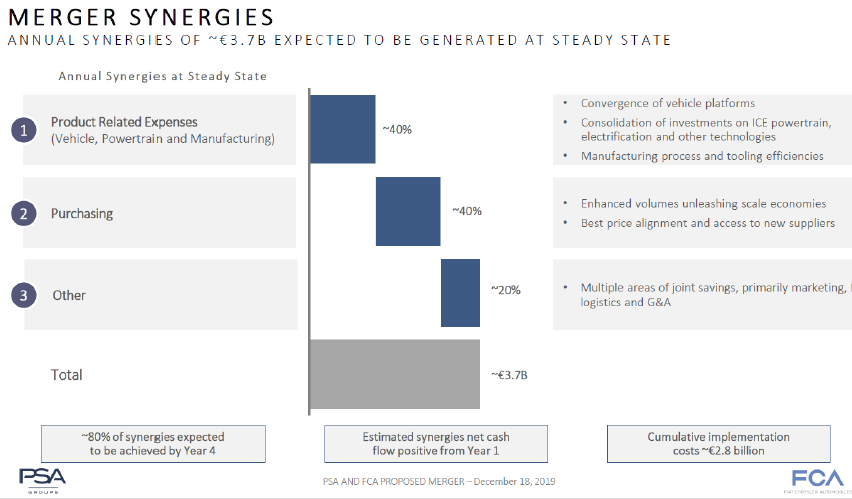 As I shared in last year's letter, for the car industry the next twenty years have the potential to be as exciting as the first twenty. We believe that the new company will have the resources and scale to be at the forefront of this new era of sustainable mobility.
Exor will be the NewCo's largest shareholder, with ~14% of the capital, and is looking forward to working alongside the Peugeot Family who, through their holding companies EPF and FFP, will be the second largest shareholder. In doing this we will draw on the lessons we have learned from our successful partnership with the Ferrari family, which has given Ferrari's leadership the stable governance it has needed to continue to grow their great company.